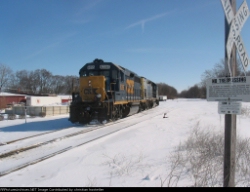 Welcome to the RRPictureArchives.NET contributor site of christian hostetler.



Thanks for taking the time to look at my pictures. Please take a look at my new youtube videos at www.youtube.com/profile?user=mononc420 I will post pictures of the shelbyville secondary local (J774) as often as i can, although wih school i will be pretty limited. Heres is some info on the Shelbyville Secondary, it is a CSX line that runs from the Belt Railway of Indianapolis to MAC control point on the SE side of Shelbyville. From there the line becomes the property of the Central of Indiana Railroad (I&O/Rail America). This portion from greensburg is currently is out of service due to the rerouting of tracks at the Honda Plant. It is scheduled to reopen around November 1st. This is all former New York Central property. This has become my home railfanning spot since i moved here.My favorite railfanning spots include Fostoria, Ohio; Rochelle, Illinois; Butler, Indiana; Waterloo, Indiana and Tuscola, Illinois. I hope to go to Marion and Deshler, Ohio this summer when i get my lisence so i can meet acouple of CSX employees over there and maybe get "special" tours at the yards. Thank you vey much for taking the time to look at my pictures.

NS GE ES40DC

My Model Railroad Club: Naptown and White River www.naptownrr.org



You may browse my collection of pictures via the menu located on the left hand side of the page. I hope you enjoy the collection and thanks for stopping by!
Note: This site is best viewed in Internet Explorer 6.0 or above.
Select one of the links from the menu on the left to begin browsing the collection.